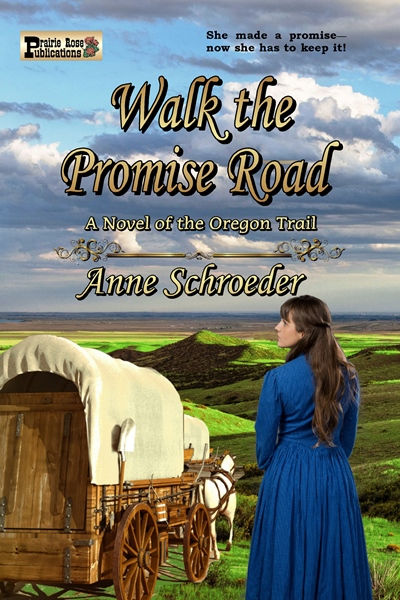 Walk the Promise Road
Mary Rodgers has lost everything—or so she believes. Her entire family has been struck down with influenza, leaving her alone in the world—except for her cousin Philip. But Philip is bound for Oregon to meet up with Laurel, his fiancée, who's waiting for him. Though Mary begs him to take her with him on the Oregon Trail, he resists. What would people think?
Mary's plan is simple. They already share a last name. They will pose as husband and wife. The wagonmaster is a firm man—and if he finds out the truth, he'll force them to marry, dashing Philip's dreams of a life with Laurel. But Mary promises it will be their secret, and Philip can't leave her behind after all she's lost.
When Luke Sayer, their half-Indian trail scout, begins to spend evenings at their fireside, other travelers notice the obvious mutual attraction between him and Mary. Though Mary denies it, she struggles to keep her promise without bringing harm to either her dear cousin, Philip, who has risked everything for her—or to Luke, the love of her life.
Mary's grit and determination will see her through the hardships and sorrows she encounters, but Luke's love will give her hope for the future as they WALK THE PROMISE ROAD…
---
---
Praise for Walk the Promise Road
"With exquisite details of wagon trains, women and the West, Anne Schroeder takes us on an authentic journey of love and hope giving us characters to cheer for and moments of meaning to cherish." — Jane Kirkpatrick, Award-winning author of ALL SHE LEFT BEHIND.
"The most accurate novel I've ever read on the Trail." — Michael Smith, Oregon Trail Preservation Committee